Alive in Color: Post Impressionist and Realist Works by Women Artists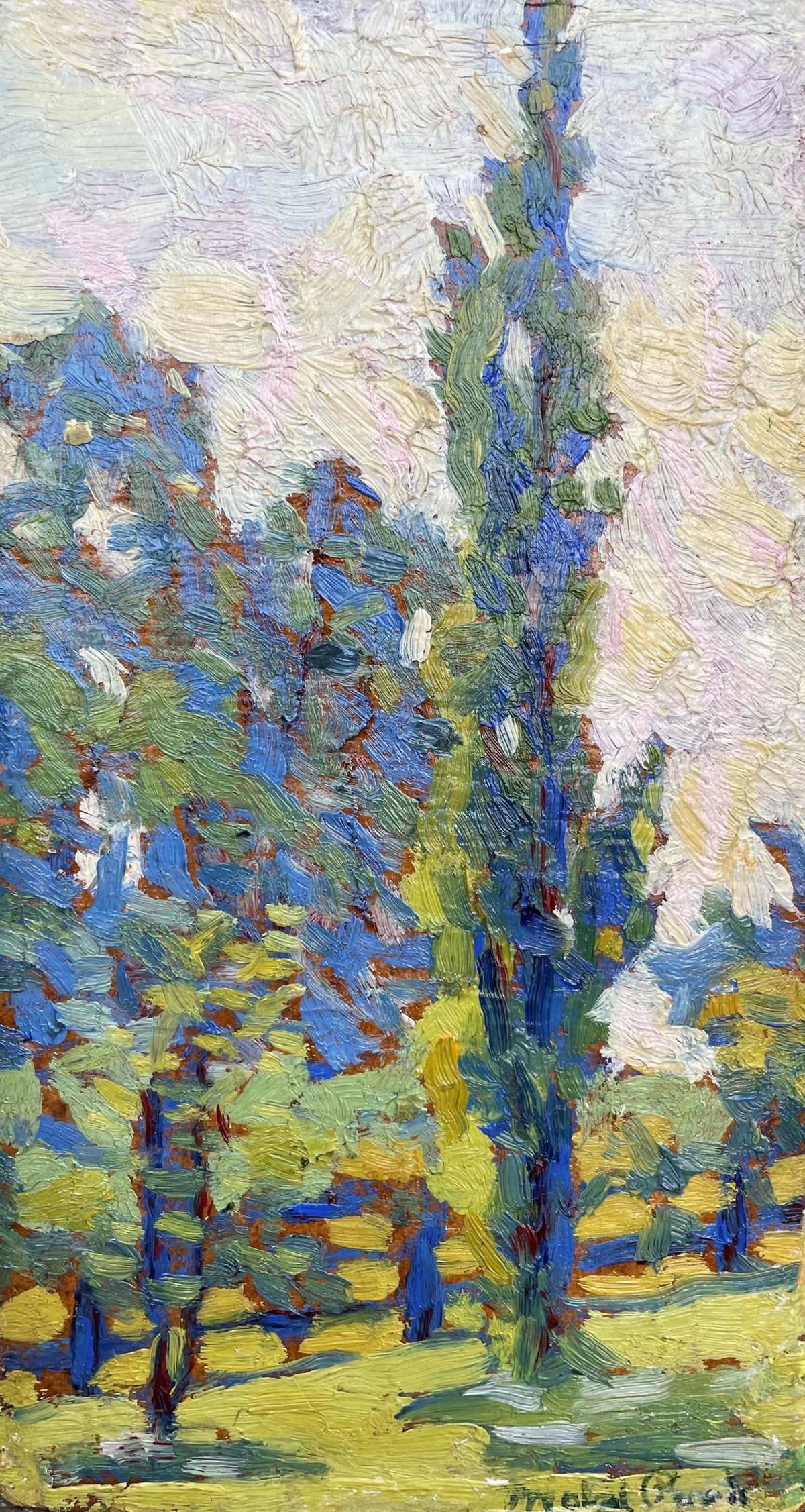 (New York, NY) Hawthorne Fine Art is pleased to present Alive in Color: Post-Impressionist and Realist Works by Women Artists. The virtual exhibition is comprised of more than a dozen works in oils, watercolors, and pastels by historic women artists.
Among the work to be shown is Arboreal Landscape, an intimately scaled work by North Carolina native Mabel Pugh (1891-1986). Painted with a limited palette and thick daubs of paint the vertical composition seemingly vibrates with color.
In Yellow Leaves by Alice Lolita Muth (1887-1952) sinuous trees dappled in yellow foliage appear to move and sway before a purple mountain and fields of green. Muth's bold use of color can also be seen in Panoramic Landscape.
The French-born artist Charlotte Therese Darche (1892-1976) leads us down a narrow cobblestone lane past cast-iron balconies and lush greenery in New Orleans. The artist studied in Paris at the École des Beaux-Arts and the Académie Colarossi before settling in Louisiana in the 1930's.
Artist Hildegarde H. Hamilton (1898-1970) also found inspiration in her picturesque neighborhood. In 4 Gramercy Park, Mayor Harper's House, Manhattan. C. 1930 Hamilton captures the red brick façade and intricate cast iron embellishments of the former home of publisher and New York City Mayor James Harper (1795-1869). The two lamps at the foot of the steps signify the home was a mayoral residence and remain at the sight to this day.
In the Pupke's Garden by Lydia E. Longacre (1870-1951) depicts friend and fellow artist Helen C. Pupke (1868-1933) amongst the tall trees, grasses and shrubs of her verdant Southampton, Long Island garden. Pupke's father, a prominent coffee and tea merchant, built the Manhattan brownstone that became home to the Russian Tea Room in the 1920's.
An original member of the Philadelphia Ten, Eleanor Abrams (1885-1967) often spent winters painting in Bermuda. In Garden Steps, Bermuda she captures the effect of gentle sunlight on stairs leading to a pastel shuttered house.
Noted for her scenes of everyday life, Theresa Bernstein (1890-2002) uses loose brushwork in rich earth tones to capture figures in a park setting.
Also included are works by artists Rhoda Holmes Nicholls (1854-1930), Martha Walter (1875-1976), Alice Stackpole (c.1867-1949), Mary Lane McMillan (1883-1976), Hortense Tanenbaum Ferne (1889-1976), Grace Cochran Sanger (1885-1966) and Josephine Miles Lewis (1865-1959).
Hawthorne Fine Art is a gallery specializing in 19th and early 20th century American paintings. The online exhibition can be viewed on the gallery's website. For more information about Alive in Color: Post-Impressionist and Realist Works by Women Artists and Hawthorne Fine Art please call (212) 731-0550 or visit www.hawthornefineart.com.