Floral Revelations: Botanical Art by Women Artists (1830-1960)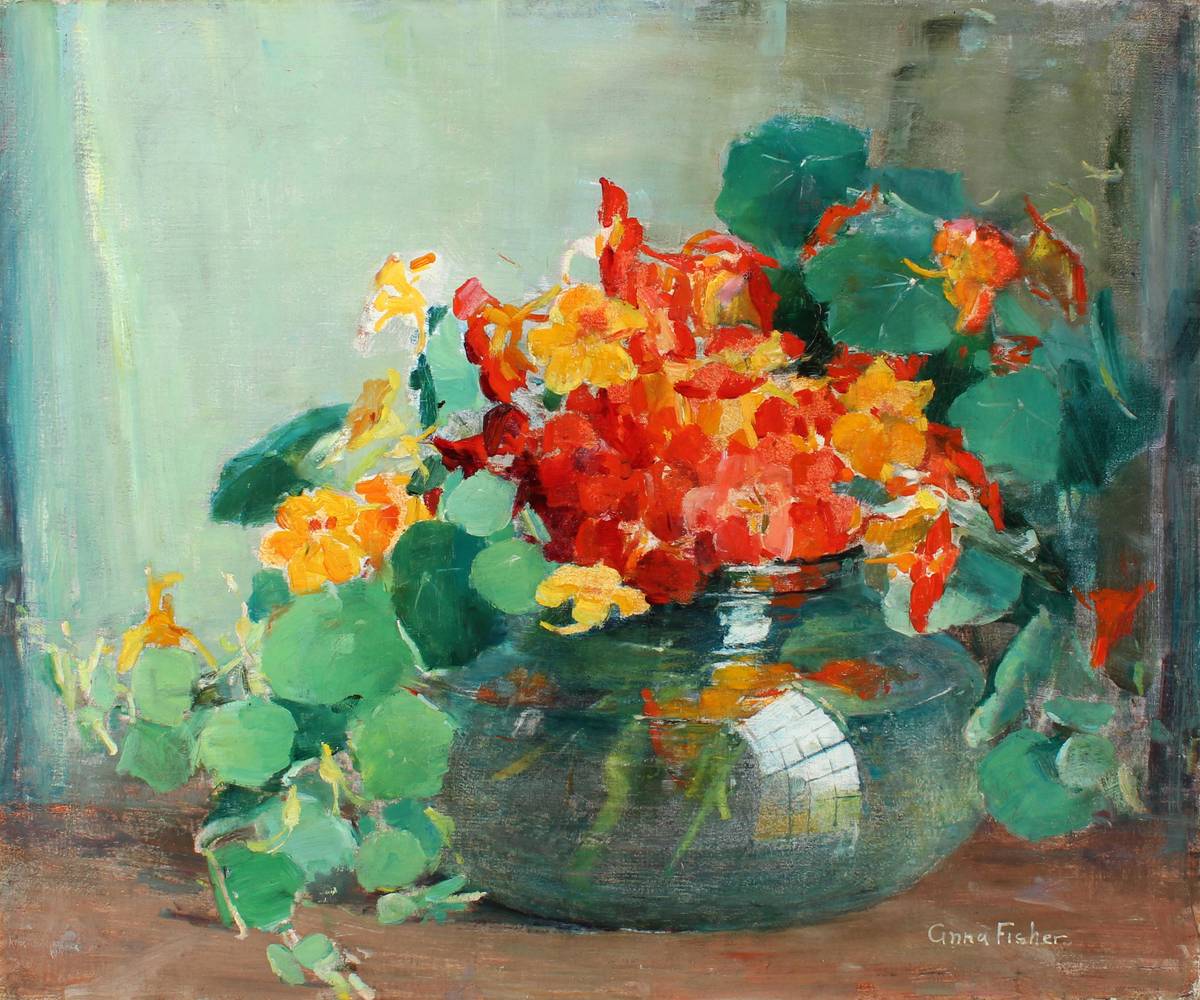 (New York, NY) Hawthorne Fine Art is pleased to present Floral Revelations: Botanical Works by Women Artists 1830-1960, an online exhibition and sale, on view March 20, 2023 - June 18, 2023. The exhibition which coincides with the arrival of spring features figurative works, artfully arranged bouquets and garden scenes. Comprised of twenty paintings in oil, watercolor and pastel by eighteen artists, the exhibition explores the relationship between women artists and floral subject matter. A full color catalogue will be available for download.
Among the work to be shown is Harmony in Yellow an oil painting by Anna Lee Stacey (1865–1943). Exhibited in 1910 at the Art Institute of Chicago, the figurative work captures a young woman in yellow standing before a landscape. She holds in her arms a bundle of freshly picked flowers which act as an extension of her beauty and femininity. Likewise, in Portrait of a Woman by Pearl L. Hill Worthington (1884-1949), a woman holds a single bloom in quiet contemplation beside a field of flowers.
In the Conservatory by Martha J. Shaw (Late 19th C.) depicts a woman watering plants in an interior. The painting suggests the domestic role of women as well as the popular and accepted pastime of gardening. The Rose Terrace by Anna E. Hardy (1839-1934) captures the flourishing garden and flower edged path of the artist's family home in Bangor, Maine. The daughter of artist Jeremiah Pearson Hardy, Anna was a respected still life painter whose flower paintings were reproduced as lithographs by Louis Prang.
New York native Artist Anna S. Fisher (1873-1942) is represented with a half a dozen floral still lifes including Nasturtium in a Vase. The large-scale oil painting features a transparent glass vase overflowing with greenery and bold red and orange blooms. A student of Brooklyn's Pratt Institute, Fisher went on to become a much respected and beloved instructor of watercolor at the institute during her four-decade tenure.
The Pepper Tree, an oil painting by Ellen Frances Burpee Farr (1840-1907) depicts the verdant weeping leaves and red berries of this West Coast evergreen. Pepper Trees were a favorite subject of artist who specialized in California flora such as rose and eucalyptus blossoms and pepper trees.
Minerva Josephine Chapman's (1858-1947) Lilacs depicts the fragrant flowers in a blue vase against a heavily shadowed background. A New York native, Chapman spent most of her professional life in Paris where she had a studio in the artists' quarter. In 1897, the artist exhibited two of her still lifes at the Paris Salon.
Alice Lolita Muth's (1887-1952) Still-life of Oeillets and Figurine is a boldly colored work featuring flowers in red and pink against a warm yellow background. A figurine from Muth's travels is included in the composition. Still Life with Tulips by American Impressionist Martha Walter (1875–1976) is a similarly lively work. Tulips in red and yellow appear in contrast with the mottled gray background. The yellow of the tulips is repeated in a pattern on the blue vase as well as the patterned tablecloth.
The Garden Path is one of several works featuring Mary Lane McMillan's (1883-1976) vibrant lakeside garden. McMillan and her husband established The McMillan School of Fine Art and offered summer classes at their residence in Belgrade lakes, Maine during the 1920's and 30's.
Also included are works by Emma L. Bartlett (19th Century), Carrie Clark (19th Century), Helen M. Goodwin (1865-1955), Emma Collin Sears Marsh (1871-1960), Rhoda Holmes Nicholls (1854-1930), Ellen Robbins (1828-1905), Mary Herrick Ross (1856-1935), and Mary Motz Wills (1875-1961).
About Hawthorne Fine Art:
Hawthorne Fine Art is a Manhattan based fine art gallery specializing in 19th and early 20th century American painting. To access the Floral Revelations catalogue, please visit our website and click to download a digital copy: https://hawthornefineart.com/catalogues.