Still Remembering those Ladies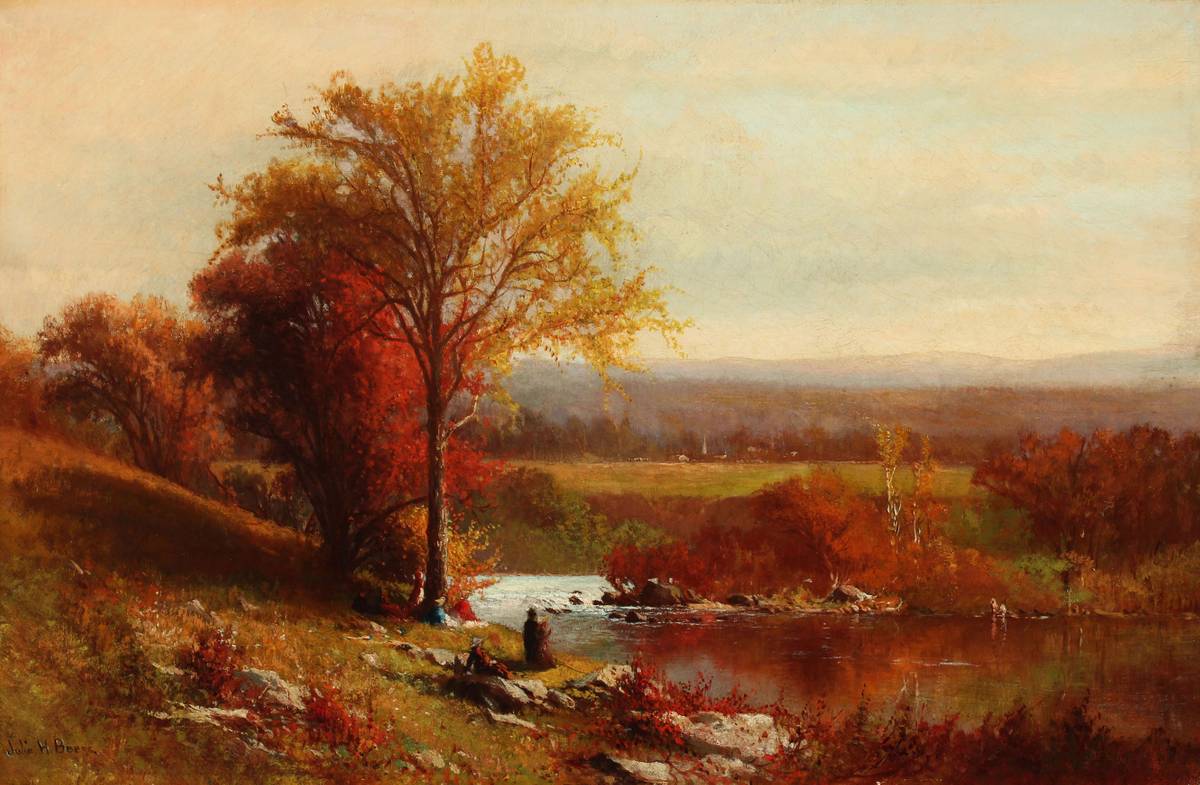 (New York, NY) Hawthorne Fine Art is pleased to present Still Remembering those Ladies. The exhibition follows the groundbreaking show Remember the Ladies: Women of the Hudson River School held at the Thomas Cole National Historic Site in 2010. Co-curated by Nancy Siegel, Ph.D. and Hawthorne Fine Art's Jennifer Krieger, the former exhibition led to the discovery of new works and new talents with the hope of adding them all to the American art canon. In the years since, Hawthorne Fine Art has continued to shine a light on American women artists through regular exhibitions and scholarly research. The present exhibition features over 25 landscape paintings by a group of exceptional 19th century lady artists incredibly worthy of remembrance. As we celebrate Women's History Month we hope you join us in Still Remembering those Ladies!
Among the work to be shown is Autumn Picnic in the Hudson Valley by Julie Hart Beers (1835-1913). The sister of Hudson River School painters William and James McDougal Hart, Beers's work glows with the colors of autumn. Figures enjoying an afternoon picnic can be seen reclining beneath the shade of a tree or warming themselves in the sun upon a sloping hillside. A church steeple and the rooftops of a nearby village can be seen in the distance beyond a vast green field.
The Hudson River Valley is highlighted in other luminous works including Sunset on the Hudson River, 1870 by Mary Kollock (1840-1911) and In the Catskills, Looking Towards Hunter Mountain by Virginia Chandler Titcomb (1838-1912).
A large scale-work, Mountain Lake in Autumn, 1873 by New York native Susie M. Barstow (1836-1923) depicts the morning mist as it rises above a mountain lake whose tranquil water mirrors snowcapped mountains. In the foreground, Barstow captured in exquisite detail the overgrowth of autumnal flora amidst the rocks on the shoreline. In the middle ground, a tiny plume of smoke hovers above a campfire while birds in flight skim the surface of the lake near the opposite shore.
A View of the Androscoggin River Valley, White Mountains, New Hampshire by Ann Sophia Towne Darrah (1819-1881) is another large-scale work. The artist, who went by Sophia, signs her work "S.T. Darrah" in order to conceal her gender and avoid discrimination. Darrah's broadly painted landscape captures the late afternoon light. Minutely painted cattle graze in a field at the lower left adding a sense of scale to the mountain scene.
More intimately scaled works include the seasonal pairing Summer, 1878 and Autumn, 1878 by Annie Cornelia Shaw (1852-1887). Painted en plein air, Shaw captures the landscape using rich earthy hues. By the Riverbank, 1888 by Mary N. Black (19th Century) depicts a lone fisherman in a rowboat beside a wooden foot bridge. The charming river scene is painted in oil on a porcelain plate, one of the few art forms considered acceptable for women during the 19th century.
Laura Woodward's (1834-1926) Camel's Hump, Vermont, 1877 captures the topography of Vermont's Green Mountains beyond farmland bordered by lush green trees. Walking by the Old Mill by Mary Josephine Walters (1837-1883) is of the few early extant pre-Raphaelite watercolors by a female artist. Walters was a favorite female student of Asher B. Durand (1796-1886).
Also included are works by artists Maria J. C. a'Becket (1839-1904), Helen Mary Knowlton (1832-1918), Rebekah T. Furness (1854-1937), Charlotte Buell Coman (1833-1924), Alice Archer Sewall James (1870-1955), Kate W. Newhall (1840-1917), Mattie C. Voorhees (19th Century) and Mary Lord Stevens (1833-1920).
Hawthorne Fine Art is a gallery specializing in 19th and early 20th century American paintings. The online exhibition can be viewed on the gallery's website. For more information about Still Remembering those Ladies and Hawthorne Fine Art please call (212) 731-0550 or visit www.hawthornefineart.com.