Women's Work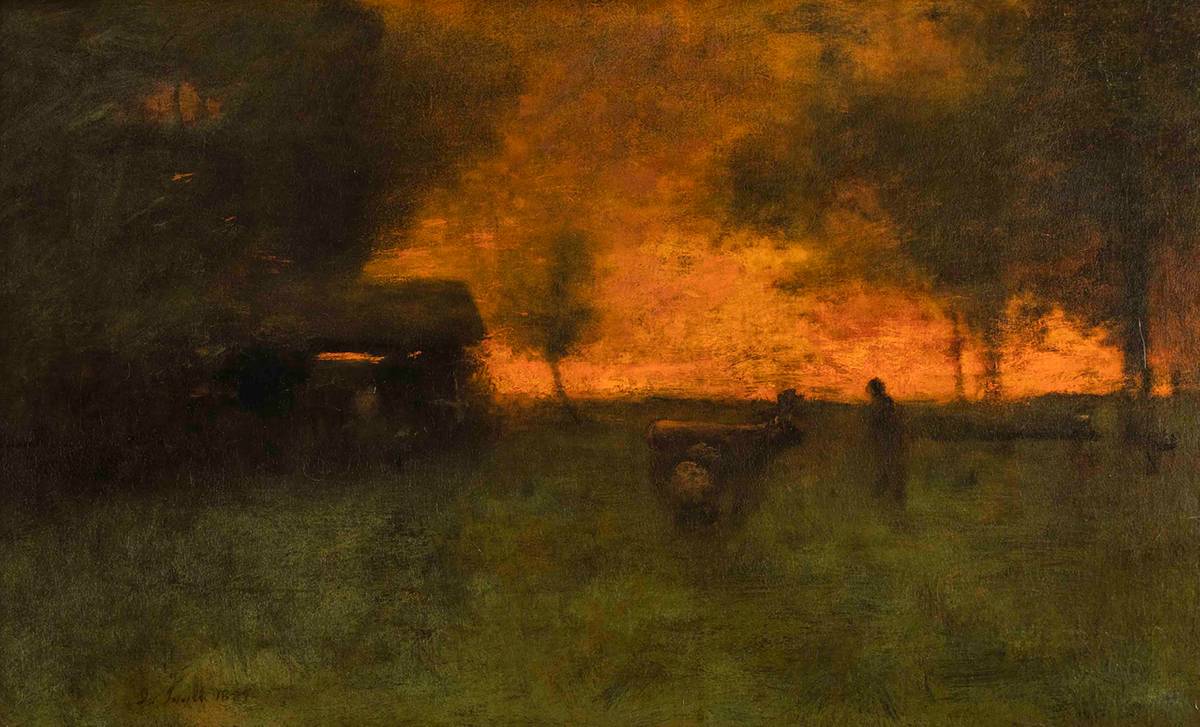 (New York, NY) Hawthorne Fine Art is pleased to announce Women's Work, an online exhibition and sale, on view July 1, 2023 – August 10, 2023. Comprised primarily of works by historic women artists, the exhibition will also feature a work by notable American landscapist George Inness (1825-1994). The selected works include oils, watercolors, pastel, and pencil, and depict women at work. From domestic chores such as sewing and housekeeping to agricultural work, creating art and music, and rearing children, the artworks explore the role of women and their contributions to society during the 19th and 20th centuries.
The centerpiece of the exhibition is Sunset Milking Time, Montclair painted in 1889 by American landscapist, George Inness (1825-1894). The work depicts a landscape in near silhouette as the setting sun turns the sky a fiery orange. In the dim light of the foreground, the figure of a seated woman in a cap can be seen milking a cow in a field of green while the figure of a farmer stands watch nearby. Painted four years after the artist moved permanently to Montclair, New Jersey, the painting is a fine example of the artist's later work. Art historian Michael Quick notes in his catalogue raisonné that Sunset Milking Time, Montclair reveals the artist's process of utilizing thin applications of black pigment and transparent colored glazes to build up color and light in his sunset paintings. The work comes from a private collection and has been exhibited at the American Fine Arts Society, Vose Galleries, Grand Central Art Galleries, and the Los Angeles County Museum of Art.
Also included is Market at Siena, Italy by Emma Lampert Cooper (1855-1920). A student of William Merritt Chase, Cooper was a president of the Rochester Art Club and a painting instructor at the Rochester Athenaeum and Mechanic's Institute, known today as the Rochester Institute of Technology. Her intimately scaled work captures a Tuscan market scene painted in warm tones with rapid brushstrokes. A seated woman is depicted selling produce to several women who stand nearby.
In Mary Lane McMillan's Woman with Basket, c. 1910, a woman carrying a basket of flowers is depicted walking along a quiet path. A building of red brick creates a colorful contrast with the lush greens of the surrounding landscape. McMillan, also a student of Chase, was a native of rural Alabama. She studied at the National Academy of Design and later pursued a career in illustration while continuing to exhibit her paintings.
Anna E. Klumpke (1856-1942), depicts a young street musician in Paris performing beside a garden wall in Young Lady with an Accordion, 1899. Born in San Francisco, Klumpke studied at the Académie Julian in Paris and exhibited regularly at the Paris Salon. A trusted friend of artist Rosa Bonheur, the two artists lived and worked together in the final year of Bonheur's life. The model for Klumpke's painting has been identified by the Château de Rosa Bonheur in Thomery, France. A photographic image of the model, graciously shared by the museum, will be included in the exhibit.
Executed in pencil on paper, Woman Sweeping, c. 1870-1880 reveals the exceptional draftsmanship of artist Mary Cummings Browne (1861-1939). A sister of noted American Impressionist Matilda Browne, the artists were raised in Newark where they were neighbors of Mary Nimmo and Thomas Moran. M.C. Browne exhibited her work, along with Mary Nimmo Moran, in the The Work of the Women Etchers of America exhibition at the Museum of Fine Arts in Boston.
Other artists represented include George Herbert McCord (1848-1909), Rhoda Holmes Nicholls (1854-1930), Pauline Palmer (1867-1938), and Martha J. Shaw (Late 19th C.).
About Hawthorne Fine Art:
Hawthorne Fine Art is a Manhattan based fine art gallery specializing in 19th and early 20th century American painting.